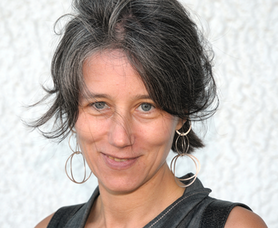 Annette Lechler first studied sculpture at the art college Freie Kunstschule Freiburg. In 1994 she received her degree in jewelry design from the renowned School of Design/Pforzheim University. Within a short time, her work gained international attention in solo and group exhibitions, as well as at trade fairs and art fairs.

From 1997 to 1998 she taught at the Trier University of Applied Sciences. In 2001 her series of movable rings (multiples) in both steel and steel/gold was franchised to the Atelier Verstraeten in Brussels.

In recent years, Annette Lechler has found it increasingly important to maintain personal contact with those interested in her movable jewelry as well as to take the time needed for developing new, complex designs. She now regularly exhibits her "interactive" jewelry at venues such as the Christmas fair for applied arts in the Landesmuseum Karlsruhe.

Annette Lechlerís work has been awarded numerous prizes, among them the State Prize of Hessen in 1999 and the Best of Germany Exhibit Prize, Philadelphia Museum of Art 2010. Her jewelry can also be found in many museum collections.